At the YBA we love to hear stories from our churches! One of our Home Mission-supported churches in South Yorkshire – Mexborough Baptist Church – has been really inspirational over the last year in the way the church has connected with its community and is building on those links.
Pastor Denise Lancaster (pictured) takes up the story:-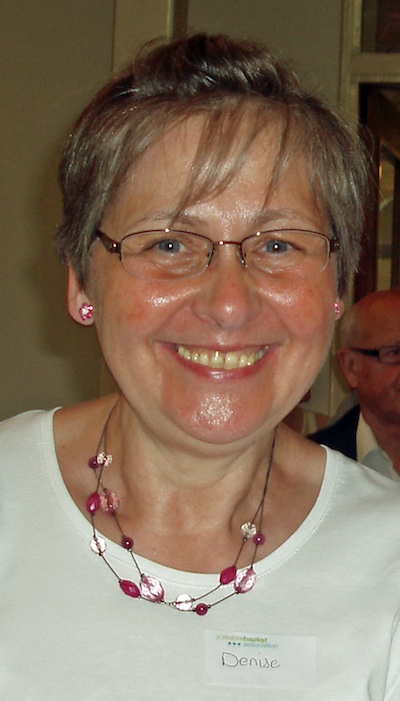 "It's so exciting being a Home Mission church. We're acutely aware of our restrictions and, frustratingly at times, lack of funds to grow God's kingdom on Windhill in Mexborough. Yet the Great Commission is to the small and large church alike, the same commission whether we're rich or poor, and to the best of our ability we connect with our community, businesses and organisations in the town.
"The Memory Café which launched in October 2016 in collaboration with the Alzheimer's Society, is going well. As a church, we felt it was our moral duty to help a group who have no money to spend on rent, and let them use our building for a year rent-free. One of our members, a retired nurse, is being trained as a volunteer with the Alzheimer's Society, and will be our link person with the Memory Café."
Denise says she had also been invited to present Christingle services in two mental health rehabilitation centres.
"This is the fourth year I've been asked to do this. I took one person from church with me to each of the services and it was great to be able to share the good news of Christmas with the patients and pray with those who asked for prayer.
"For Advent Sunday the Scout leaders, with the help of 25 pieces of card and a washing line, took us through 25 aspects of Advent – the adventure of expectation looking forward to Christmas.
And Mexborough Funeral Service – interested in our Advent theme – offered to donate Advent calendars for all the children."
Some of the calendars were shared at another of the church's ministries, continued Denise.
"We had some calendars left, and took these to our monthly service at a supported housing complex and repeated the 25 days of Advent with the residents. After this we were all treated to fruit cake and cheese by one of our regular attenders. We've been leading the service for a couple of years now. It came about because one of our members is a resident there and can no longer come to church. We approached the housing complex to see if we could bring the service to him and any others who might be interested.
"The small group of residents call it their church and it's interesting how it's developed. One regular attender made a wooden cross, others the communion tray – and others provide the tea, coffee and cake. They really own it, and one gentleman who, due to his condition hadn't been to church for so long, looks forward to church every month. He felt alone and abandoned, hardly ever visited by those he thought were his friends.  He meets with one of our team every week who has taken him on a journey of finding Christ for himself.
 
"We have the church's Christmas dinner at the same supported housing complex and this time 66 people attended – the largest proportion from the Royal British Legion (I was asked to lead the British Legion Remembrance service at the Mexborough War Memorial this year). There was also a group from our own Scout leaders, plus people from the supported housing and our own church people. It was a great afternoon with quizzes and carols after the dinner.
 
"Avalunch – the community café which meets at the church – also had their Christmas dinner with about 80 customers, some of whom attended the Christmas Community Communion as well. Avalunch has recently started supplying lunches to a local day centre. And in 2016, Avabrecky was introduced and is running once a week to provide breakfast to the local community, anything from a slice of toast and a cup of tea to a full English!
"At a recent Doncaster Council for Voluntary Services event, one of our long-standing volunteers, Peter Moore, was recognised and received the Senior Volunteer of the Year Award.  We were all so excited by this that we presented the award to him again at the Sunday service!
"We're looking forward to 2017 and to seeing what opportunities the Lord is going to open up for us to let the people of Mexborough know that we are here and, more importantly, that Jesus loves them."